Topic ID #2654 - posted 1/2/2008 8:30 PM
Rob Hartmann's Minnesota Specimen
Charlie Hatchett
Rob Hartmann has asked for assistance identifying the following specimen: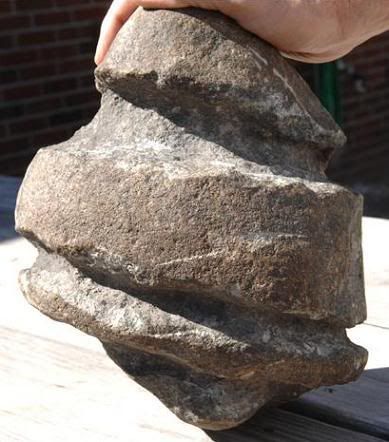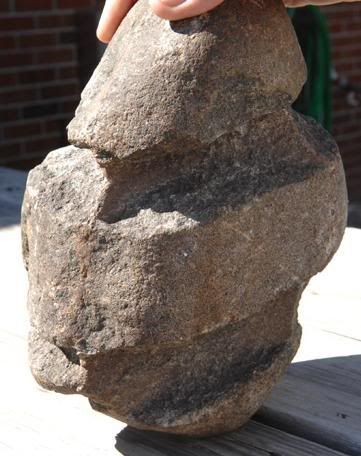 Can anybody help him out?
I'm emailing you because I'm trying to identify a 21 pound stone that
was unearthed in a corn field in Alexandria, Minnesota back in the
1950's. I wanted to post it on the Archaeology Fieldwork web site,
but I registered last week and still haven't heard back yet. So,
first I wanted to ask your opinion on it, photos can be seen here:


http://img.photobucket.com/albums/v80/harnett65/album%207/pic1190n.jpg

http://img.photobucket.com/albums/v80/harnett65/album%207/pic1190a.jpg


Second, I was wondering if you would consider posting it to the forum
for me, if you have time. Btw, nice job on your site, you have an
amazing collection of artifacts there.

Regards,
Rob Hartmann
Post ID#5147 - replied 1/2/2008 10:36 PM
AD
Hi Charlie...
Well, who knows what, who, or when... I'd expect one of the pros in the forum to say it's a product of differential weathering or plow damage. I think otherwise, and I'm sure it will come as no surprise to you that I have spotted the characteristic and seemingly mandatory simple eye-and-mouth incorporated into this thing, whatever it is.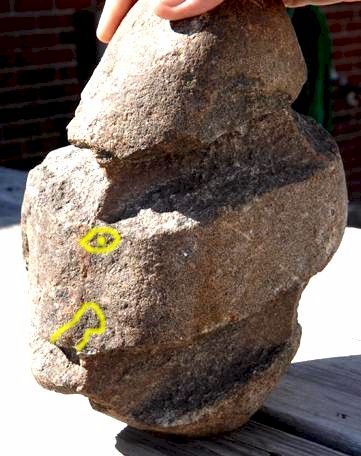 Note in particular the classic eye with iris, something to which the old people typically gave careful attention - easily identified. I suspect the iris is a natural feature around which the eye was carved.
Regards, AD
Post ID#5163 - replied 1/3/2008 1:37 PM
Heather626
looks like a possible sinker, or some type of grinding tool to be used with rope... sort of working the same way a capstan works on a ship. No idea, I'm a bone person, not rocks but just throwing stuff out there.
Post ID#5166 - replied 1/3/2008 4:23 PM
Charlie Hatchett
looks like a possible sinker, or some type of grinding tool to be used with rope... sort of working the same way a capstan works on a ship. No idea, I'm a bone person, not rocks but just throwing stuff out there.

Hi Heather.

That seems to be in line with another opinion Rob received:

From: R Hartmann
Date: 01/02/08 18:14:40
To: Charlie Hatchett
Subject: Re: Stone Artifact ID

Thanks! I'm planning to post the pictures on my own site tomorrow and
wanted to get some other opinions on it. Someone suggested it might
be a boat anchor but I don't know if this is correct or not, so I
thought that I would show it to some experts.

Regards,
Rob