Topic ID #2917 - posted 2/15/2008 1:27 PM
Lake Erie North Shore Finds
paleoface
Since this is my very first post I thought I would share a few finds with you all. I want to emphasize that these are all surface collected. These were all gathered on the shore of Lake Erie East of Long Point from public accessed beaches. Your thoughts and opinions on these artifacts are always welcome. From time to time I also upload artifact photo's to my music page at http://radio3.cbc.ca/bands/Pleather just go to my blog and click on photos..............
ps I would like some help in identifying the "vertebrae" attached to my second post (subject: What are these?) - A preliminary search on the web for similar bones makes me think they may be tail vertebra, but from what type of animal? Something big no doubt. :D
J
Post ID#5692 - replied 2/15/2008 2:02 PM
Jeff
Sorry to but in, but it was strange seeing "paleoface"
and it not being me, how did you come up with that name ?
just curious I have used it in other forums and my email
address's,

Welcome aboard !

Jeff
Post ID#5693 - replied 2/15/2008 3:46 PM
AD
Hi Paleoface...
Interesting photos - some definite artifacts, some good candidates, some very questionable.
The third one is apparently a drilled pendant.
The fourth one - I'm not good with teeth, bones, etc. I'd guess it might be a bovid molar, maybe bison as large as it is. It also seems to have the isolated stylid characteristic of bison. Could be quite wrong... There's a lady (Heather626) who sometimes pops in here and seems to be knowledgeable on such matters. For what it's worth, here's a photo of a bison molar from southern Ohio that was found with a cache of artifacts from, apparently, about 2000 years BP: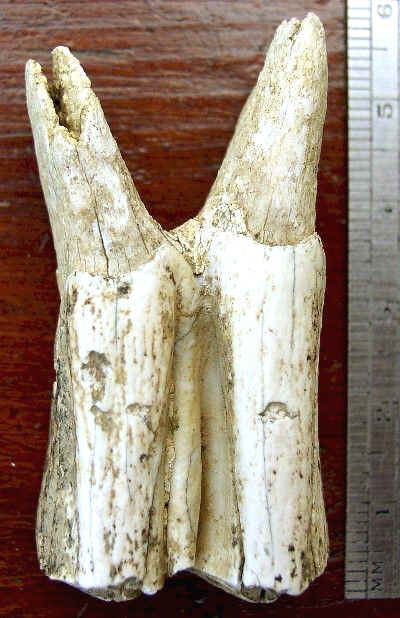 The fifth one seems to be a chert point with the tip broken off. (Big help, right?)
Sixth and seventh - chert scrapers?
Regarding your question about photo size in your "tail vertebrae" posting - yeah, they are too big; I had to set my screen to almost the highest resolution for them. And not everyone is off of dial-up yet either. As a rule, I don't go over 600 pixels across in forum postings. Also, it's best to crop a photo to show only the object of interest along with the scale - the rest just takes up space and bandwidth. (Good move including the ruler - centimeter scale would be better though, being the international standard for archaeology.)
Have fun!
Regards, AD
Post ID#5699 - replied 2/15/2008 4:45 PM
paleoface
I like your interpretations. The first image shows the subjectiveness of the decision making process does it not? lol From the other angles, it does look worked trust me! The last two have been studied by Ministry staff and most concur that they are indeed scrapers. The last (pic7) one has mixed opinions mainly because of the "fluted" surface. Again, under the loop there are clear indications of edge serration and it still retains some sharpness. I believe it is an artifact.
The second image is suspect (pic2). I think it is an ecofact but using a loop and depending on the light etc. it is borderline so I have kept it for further study. I can say without hesitation, that it would chop and crush nicely.
oh btw, pics 4,5,6 were all found within about 70 feet of one another that is at the same location. Boy what I wouldn't give for a time machine!!
Post ID#5704 - replied 2/15/2008 8:05 PM
Charlie Hatchett
Hi Paleoface.
This looks like a core for flake tools:
Core/ Chopper:
Cow, deer, or bison (will you take a shot of the other side):
Scraper:
Scraper:
Archaic side notch point:
Cool stuff!
Post ID#5708 - replied 2/15/2008 10:56 PM
paleoface
Thanks Charlie!
Here is a couple of different angle pictures of pic1 and another artifact from the same site. The picture does not do it justice. This piece is like a cross between hematite and soapstone i.m.o. It has tiny white flecks of inclusions and looks like a clear night sky. One of my favorite pieces.
Enjoy all.
Jay ps sorry about the large size of pic4 but I want to emphasize the impact marks
Post ID#5710 - replied 2/16/2008 3:46 AM
AD
Hi Paleoface...
The additional views of your flint piece do suggest to me that it may have been artificially modified, but I hesitate to say very much since I have little experience with this material - we don't grow it in this area, and only a very few of these appear at the site I'm investigating here, apparently mainly manuports.
Your apparent bison molar is interesting, and I wonder if any other bison parts have been found on the north side of Lake Erie. I concur with Heather626's assessment in your other/parallel discussion thread. The only reason I know anything about this at all is that I investigated the big well preserved tooth I showed you earlier, found by a friend five feet beneath the surface while building a house. (I've been given to understand that these are not common here either.) After poking around on the internet, I concluded that it must be a bison molar, and then proceeded to present the photo you have seen to several well known and expert zoologists for their opinions, not venturing my own. And this brings up what you said about subjectivity, specifically, in this case, one of many awkward aspects of the human condition: Upon viewing something for the first time we pretty much see only what we expect (or have been taught) to see. One fellow with impeccable credentials immediately said it was a deer molar. Well, I see a lot of adult deer skulls in the woods here, and believe me their teeth are tiny by comparison. (That would be one hell of a deer - if you were hunting, you sure wouldn't want to piss it off by shooting at it.) I politely asked him to look at the photo again, paying close attention to the scale in the photo and the isolated stylid (or "pillar", as Heather626 noted). He then said it is indeed a bison molar.
FYI, below is a photo showing another view of the Ohio tooth (right) next to one of a Pleistocene (much older, I'm assuming) bison molar. Note the characteristic isolated stylid in each. (This also distinguishes bison from bos [well known cow], which also has much smaller teeth - look at a cow skull sometime.)

Regards, AD
http://www.daysknob.com
Post ID#5712 - replied 2/16/2008 12:10 PM
paleoface
Good thoughts and comments........Ironically my background is in dentistry and I have studied tooth morphology, histology etc. (human dentition) and when I discovered the tooth I drew several conclusions: It was from a large animal, it had broke or been intentionally broken at the muco-gingival junction in order to expose the dentin and pulp cavity, it was stained either through firing or from surface percolation. It was heavily worn on the occlusal surface and this wear pattern suggested that it was an older animal. I showed the tooth to several colleagues and horse seemed like a possibility. Well, the internet is my new best friend when it comes to comparative research and clearly this tooth was not from horse. Bison teeth have a characteristic curvature about the buccal surface when viewed from the occlusal. Horse teeth do not exhibit this, they are more "flat" It may help to think of the cursive letter "M" as being the top view of the bison molar/premolar and "n" as being analogous to a horse molar/premolar. And so, the tooth became important. There are a few journal entries with bison remains discovered in Northern Ontario and one mention of a possible site approx 40 minutes North of Toronto. These are the only two discoveries that I am aware of and they are not represented on historical geographic distribution maps. Probably because they are isolated finds etc. Let's hope that my find can help update the data. Still, until I receive professional analysis and identification the tooth remains questionable. We must continue to have faith in the scientific method.
Post ID#5717 - replied 2/17/2008 1:31 AM
AD
Hi Jay...

Very interesting, and quite amusing that I thought I was enlightening a dentist(?) on tooth morphology...

Well, that thing does look like a bison tooth, but as you say, you need to get that professionally confirmed. The breakage seems to me rather like spiral fracture in a bone, suggesting the possibility of intentional breaking with a rock or whatever. I wonder if people ate the pulp in large teeth (yum!) - seems plausible since they cracked bones open for the marrow. I would think that careful analysis could tell you whether or not it was actually fired. I hope you can find someone to do this properly. Problem is, there's so much stuff out there to look at, and so few people qualified and with the time to do it. And of course there is usually money involved. Getting an AMS date would be nice, but I suspect the chances of a busted up tooth having enough suitable material left aren't that great. Anyway, good luck and thanks for showing this!

Later... AD
Post ID#5726 - replied 2/17/2008 5:40 PM
Charlie Hatchett
Hey Jay.

I didn't realize you were also posting up in the photo gallery. You ought to copy all that stuff down here, or a lot of people might miss it. I see Heather identified your tooth as bison. If Heather said it I'd bet on it! Cool. 8-)
Post ID#5757 - replied 2/18/2008 10:19 PM
paleoface
Yeah- I will try to find the time to copy the images over........o.b.t.w....make sure you check out the basket photos I just uploaded. :D
Post ID#5765 - replied 2/18/2008 11:05 PM
Charlie Hatchett
...make sure you check out the basket photos I just uploaded...

Man, you're asking the wrong guy. I'm clueless when it comes to pottery and basketry/ weaving. :? Guess one has to pick their poison. 8-)
Post ID#6801 - replied 4/12/2008 8:48 AM
paleoface
THe word from U of Wyoming is in. One tooth still possible Bison, the other three Pleistocene Horse- age unknown, no$ for dating, can anyone recommend a few reputable and affordable rcdating labs for submission?
Post ID#6802 - replied 4/12/2008 9:12 AM
Jeandron
The most 'popular' is Beta Analytic (http://www.radiocarbon.com/) in Florida. Others are around (http://www.radiocarbondating.com/) but are generally a similar price - not cheap.
Post ID#6809 - replied 4/12/2008 11:58 AM
paleoface
thanks for the help ill check em out later
ps does anyone have any links, info re: pleistocene distribution of horse around the north shore of Lake Erie, S/W Ontario
Post ID#19638 - replied 6/20/2012 12:53 PM
Early Post-Glacial
Hello Paleoface

Where are you located in southern Ontario? It looks like we might share similar interests.