Topic ID #3264 - posted 4/16/2008 1:08 PM
electronically gathering survey data in the field
Jennifer Palmer
Webmaster
Recently my husband picked up one of these for work. He's not an archaeologist, but works in IT, and ends up burning through a lot of notepads during meetings: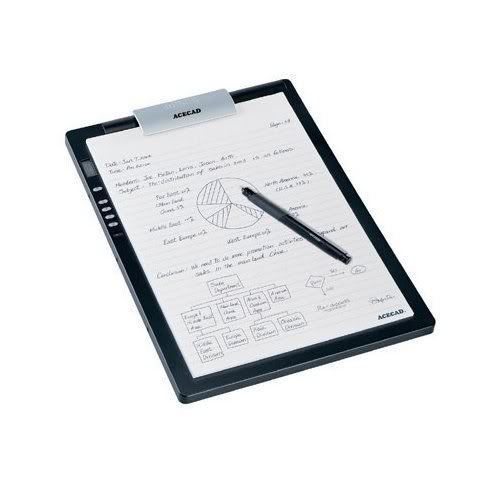 http://www.amazon.com/gp/product/B000LD25MC/103-6633920-2651817
Basically, it's a digital notepad that records everything written both on a regular notepad and in a file which can be exported to a format of your choosing on the computer. I thought that something like this would have been handy when I've been on a project and the office has wanted to have the crew's field notes in their hands at the end of the work day (I'm talking actual shovel test writeups, unit profile drawings, etc). Some SHPOs also want to see the original notes as well, and in the past I've had to laboriously photocopy everyone's notes for the state, client, or to include within the appendix of a report. If someone made a weather-resistant version of a digital notepad like this, it would be interesting to see if it could benefit field applications in CRM.
I know that some folks have quite successfully used various types of data loggers in other fields like forestry. I'd like to know if any of you have used some kind of electronic tool to keep track of your actual survey data while in the field for easier data manipulation later. I vaguely remember a discussion here on archaeologyfieldwork.com awhile back where someone discussed there being an actual software package made for this express purpose within CRM applications. Anyway, I thought it would be interesting to see if any of you are going beyond just letting your crew scrawl notes on paper or in a notebook to record all of that shovel test data...
Jennifer
Post ID#6927 - replied 4/16/2008 2:40 PM
timdig
Yeah, I have been waiting for a couple of years for them to make an rugged version of the note conversion platform. But nothing yet. Despite this i have worked with designing digital data collection systems at all levels of archaeology from pedestrian survey to large scale excavations. Most often this is for those using GPS and Total stations but moving past just collecting an xyz i have designed forms for the data collectors to record archaeological material at the same time as they record position. Its seems a waste of time to make two archaeologists or two trips to record information about the archaeological record. When your mapping you can be doing more. Now that being said I have also worked on designing systems for excavation/or non mapping digital data collection. The technology is getting better in terms of environmental conditions. Battery life is always a major concern especially in the extremes. I have found just using digital technology itself is not a major improvement but the technology can be a benefit to the archaeologist and the company if you implement a larger methodological change. To really take advantage of the technology in any great fashion you have to redesign your methodology. If you don't you often just push problems to other areas. Your field time may go down but your office time may increase exponentially just to name one experience. I also find if you have a more thought out implementation of technology and traditional methods you can improve your work flow and down time. But as with any method it is how you prepare and carry out your plans. I worked with a company in AZ where we developed an entire Information Services division of the company. We worked with all aspects of the company to incorporate technology where appropriate and changed components to incoporate both technology and traditional methods more effectively. Don't just take technology out and think that you can just insert it into traditional work flows with out ramifications.

I currently am working on designing a comprehensive database and field collection methodology for a huge site in Italy (bay of Naples region). Trying to balance the international differences in technology and traditional archaeological methods is even more daunting than working with a US contract company. In this particular case we are trying to make a long term project where different research teams would come and work as well as get the data out to researchers and the public in a digital and timely form. Trying to develop a technology component that anyone in the world could use is daunting to say the least.

Just some thoughts for folks. I do know of a few software packages that have been designed specifically for archaeologists but none of them have taken off with great success yet. I wait to hear other peoples posts about this topic.
Post ID#6928 - replied 4/16/2008 2:46 PM
FireArch
Moderator
That's a neat device, but what happens when it goes tickity bang and you cant access your notes?

At least with a paper pad you can almost always retrieve the data.
Post ID#6929 - replied 4/16/2008 2:49 PM
timdig
Firearch makes an excellent point that you must always have backup plans for technology and the data. One question i always state in design is how much data are you willing to lose then design a plan to back up data and equipment to that level of comfort. One must remember that while now very infrequent you can lose data from traditional methods. I have many stories over the years of this so it is not just technology but methodology. Maybe another thread is to talk about the loss of data from traditional methods. Just a thought.
Post ID#6932 - replied 4/16/2008 3:31 PM
FireArch
Moderator
A good methodology will save your backside and time, absolutely.

My colleagues and I surveyed 2000 ac. of Ancient Lake Cahuilla shoreline a few years ago, identifying over 1500 cultural resources. Each of these were documented as they were encountered, both digitally and manually. We kept pocket field books to record the pertinent info, while digital photos, and gps data were collected and then stored in daily folders on the computer. If any particular day went missing, we only had to replicate that day's effort, not the entire project's. In fact we did lose part of a day's gps data - the reason is still unknown - but we were able to identify the exact resources missing, and were able to relocate those precisely because we had excellent photos to work from (you know, those surface/in situ photos that some think are a waste of time), and excellent notes to corroborate with.

But certainly I like having technology out in the field, it does make some things easier to accomplish - no more having to wait a week for the photos to come back from the lab only to find out that you set the ISO speed incorrectly and all the photos are washed out or should've been pushed two stops - digital lets you know you blew it right away. But having an old faithful as a standby will always pay off when trouble strikes.
Post ID#7070 - replied 4/24/2008 5:38 PM
prisoner
A friend of mine sent me this link and it is a pretty amazing device and not entirely out of reach of a small company, albeit maybe not currently practical enough:

http://www.adapx.com/Product-Demonstrations/Capturx-for-ArcGIS-Desktop-Product-Launch-at-the-ESRI-User-Conference.html
Post ID#9111 - replied 6/24/2008 2:46 AM
djbera
Just out of curiosity, how does one erase mistakes on the digital copy on one of these bad boys?
Post ID#9409 - replied 7/3/2008 4:54 PM
ROC
Not a direct reply to any of the good info here, but I wanted to share about an additional tool that may be of use once it is affordable.

Enter "GIS camera" in Google and see what you get. Wow, talk about getting more bang for the effort expended to take a photo.

I have not worked with these things yet, but they look promising.